Velona Cuddles

Australian Bamboo Diaper
Velona Cuddles
Australian Bamboo Diaper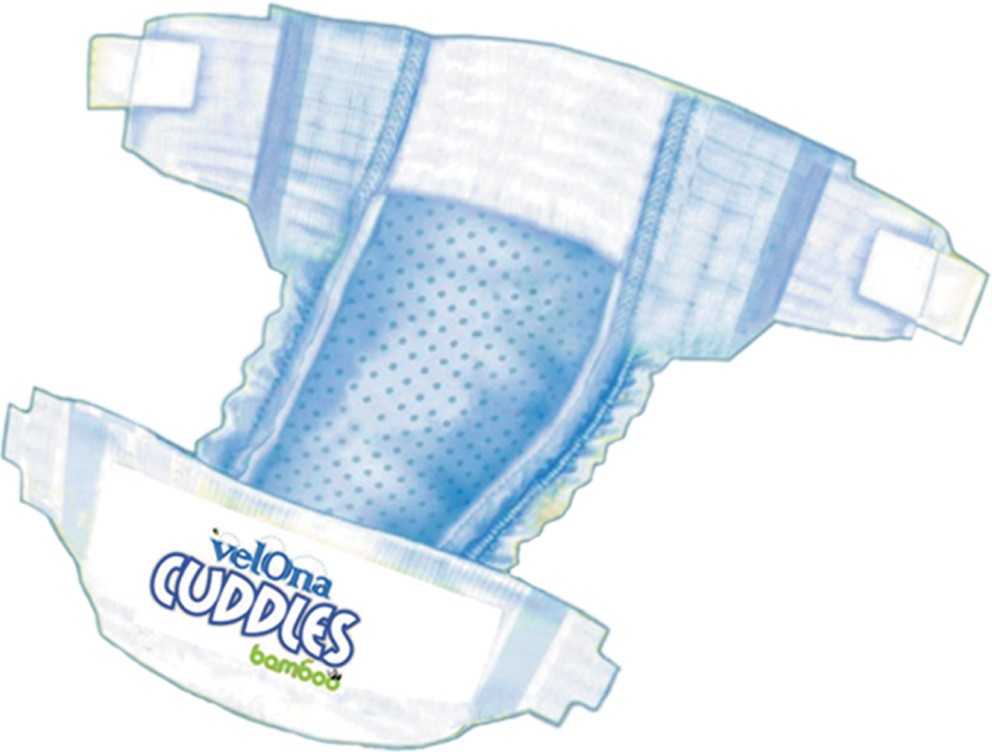 Features
100% Bamboo Fiber Top Sheet
The Bamboo Top sheet wicks moisture away quickly and is super soft and silky smooth against the skin.
100% Bamboo Back Sheet
The bamboo back sheet is naturally breathable, allowing fresh air to circulate to keep baby's skin dry.
The Triple-Stretchable Side Fastener
The German Triple elastic sides Stretch to provide a snug fit and allows baby to move freely.
3-D Form Fitting Design
This hi-tech design offers efficient leakage barriers to ensure a snug body fit and minimizes the risk of leakage.
Wetness Indicator
The wetness indicator changes colour to let you know when baby needs to be changed.
Natural Aloe Liners
Natural aloe liner to nourish baby's skin & minimizes risk of diaper rash.
Free of Harsh Chemicals
All Our diapers are naturally hypoallergenic; 100% free of chlorine, alcohol, perfumes, latex, PVC, TBT, antioxidants, phthalates or preservatives.
What is Australian Bamboo Diaper
Velona Cuddlies which is manufactured for the australian market is now available in Sri Lanka. This range is a biodegradable & Eco-friendly Diaper to help you in your efforts to protect our planet. These diapers are made from organic bamboo fibers that decompose in soil by microorganisms and sunlight in just 75 days.

BONUS OFFER : FREE* BIODEGRADABLE DIAPER DISPOSAL BAGS
*Free bio bag offer only available until stocks last. Number of bags included varies depending on diaper size (varies from 2-3 rolls per box & 20 bags per roll).
Velona Cuddles

Customer Feedback
Elham Ilyas
Thank you velona for this beautiful print. Have been using for 5 years for both my kids. Velona is the only brand that suits my kids...
Liyanage Sabeena Fernando
Super Comfortable Diaper for my baby. I Recommend for All. Best Diaper in Sri Lanka. 
Mandira
It's Superb and Comfortable for baby. Absorbent Capacity Very High 
Nuwanthi Upeksha
Out of all the Diapers in the market, Velona cuddles is the best I have found so far. My baby is now 7 & half months. He wears it and it's the best.
Saliya De Silva
Excellent product better than anything in the market by Far ...... even better than the imported branded diapers , awesome job Velona you continue to give the very best for babies and kids
Nishi Perera
Very comfortable diaper for my baby.best product in SL.I use this diapers daily for my nwborn baby but no any rashes.i love this.
Randika Ravichandra
The Best Diaper in SL, I have been using it from day 01 and my Baby has been very comfortable in them, no rashes and no leaks.
Sarojini Jacintha
I have been buying their Adult diapers for my dad and mother-in-law and they are excellent. In addition I must mention that the service extended by Tharaka is superb when coordinating things from overseas.
Keerthu Krish
Best diapers in Srilanka...I have used for my son. it's really perfect for the child. very comfortable, softness and very easy. I'm really happy about the quality of velona cuddles diapers...!!!!
Meena Maladugalage
Very comfortable and soft product for the kids. Sizes are also really good compared to the other products.
Dilrukshi Tissera
I'm using this diaper for my newborn baby..Excellent product..very comfortable for my baby..love it.
Nayomi Iresha
its the best diaper for kid love to say that my girl is enjoying her day with velona cuddles
Thilini Harshani
The no 1 diaper which I can choose for my baby. comfortable, high absorption and quality material...
Vindya De Silva
Best and high quality no 1 diaper brand in sri lanka. very comfortable for my baby and other babies also. love it. highly reccommand for all. best of luck Velona
Rizmiya R Ijaz
It's really perfect for the little one. Baby feels very comfortable with Velona Cuddles!
Badhoo Nisa
The best diaper for kids. I'm now using this. Recommended for All types of skin
Velona Cuddles

Similar Products